Grafixvault is a digital marketing agency in Pakistan that specializes in helping businesses grow their brand and succeed in the competitive online marketplace. Led by founder Adeel Najam, our team of experienced professionals offers modern digital marketing strategies, including search engine optimization, pay-per-click advertising, social media marketing, and more. Our personalized approach and extensive knowledge base in diverse areas of the digital world set us apart from the competition. We strive to exceed expectations and consistently deliver tailored digital marketing services that add real value to your business. Contact us today to learn more about how we can help you create a successful online marketing business.
As a digital marketing agency, we provide a range of services to help businesses improve their online presence and grow their brand. Our services include search engine optimization (SEO), pay-per-click (PPC) advertising, social media marketing, content marketing, website design and development, and more.
Our SEO services are designed to help your website rank higher in search engine results pages (SERPs) for relevant keywords and phrases. We use a variety of strategies, such as keyword research, on-page optimization, link building, and more, to improve your website's visibility and drive more traffic to your site.
With our PPC advertising services, we help businesses reach their target audience through paid search and display advertising. We create and manage campaigns on platforms such as Google Ads, Bing Ads, and Facebook Ads to maximize your ROI and drive more conversions.
Social media marketing is another important component of our digital marketing services. We help businesses connect with their audience on popular social media platforms such as Facebook, Twitter, Instagram, and LinkedIn. We create engaging content, run targeted ads, and monitor your social media presence to help you build a strong brand and drive more engagement.
Our content marketing services include everything from content creation and optimization to distribution and promotion. We help businesses create high-quality content that resonates with their audience and drives more traffic to their website.
Finally, our website design and development services are focused on creating user-friendly, visually appealing websites that are optimized for search engines and designed to convert visitors into customers. We use the latest web design and development techniques to create websites that not only look great but also deliver outstanding results.
At our digital marketing agency, we are committed to delivering exceptional results and helping businesses grow and succeed online. Contact us today to learn more about our services and how we can help take your business to the next level.
Grafixvault is a full-service digital marketing agency that specializes in providing the most comprehensive marketing solutions and work skills for businesses of all sizes. Our team of experienced web designers, developers and marketers are dedicated to helping our clients find creative, innovative ways to market their products or services online.
We offer a wide range of services, from Search Engine Optimization (SEO) and Social Media Marketing (SMM), to website design, logo design and more, promoting your business on various mediums. We tailor each campaign to meet your exact needs depending upon your goals and preferences, guaranteeing the best results for you.
Our experienced professionals prioritize user experience and create stunning websites with easy navigation and modern visuals. We also help businesses establish their presence in the rapidly evolving digital world by targeting the right audience with effective content strategies that reach multiple mediums.
Furthermore, our team here at Grafixvault has experience in Search Engine Marketing (SEM) using AdWords campaigns including B2B lead generation campaigns as well as conversion-centered landing pages. We make sure all offerings feature an organic social media presence on leading platforms like Facebook, Instagram Twitter etc., increasing visibility & brand accession support. A large emphasis is also put into creating customized digital analytics report aiming at correctly measuring results based on effectiveness of tools employed throughout every campaign enabling us to adaptive problem solving when necessary!
Digital marketing is a powerful way for businesses to attract and engage customers. Through digital channels such as email, social media, search engine optimization, and websites, businesses can build relationships with their audiences and promote products or services in an efficient and effective way.
When it comes to boosting customer loyalty and driving more sales, Grafixvault focuses on developing an effective branding strategy. We strive to build a strong online presence for your business that will help to cultivate a memorable brand identity for your company.
03. SOCIAL MEDIA MARKETING.
Social media marketing is an effective way for businesses to increase brand awareness, engage with consumers, and boost sales. It involves utilizing popular online platforms such as Facebook, Instagram, Twitter, and LinkedIn in order to build relationships with customers and potential customers. With strategic engagement on these channels, businesses can reach a wider audience and promote themselves more easily.
In the realm of digital marketing, Grafixvault Marketing Agency is a one-stop shop. Lead generation is a three-pronged process; Grafixvault helps you accomplish it using their skills.
THE USER MUST COME FIRST.
Our staff processes fundamental understanding and skills of graphic design programs like Adobe's Creative Suite, Canva, and Inkscape. We focus on developing hard talents and soft skills to set us apart in the workplace.
The marketing strategy at Grafixvault is customer-centric. At the outset of every project, we ask ourselves, "How can we best support our customers in realizing their vision?"
Whether providing you with data-driven marketing plans that will inspire your potential customers and stimulate growth for decades or delivering exceptional tactical work, our passion for our clients is at the heart of all we do.
"Grafixvault has been great to work with. His creativity and professionalism are amazing."
DEAN STEINMAN
"Easy to work with and do a really good job. He responds really fast and that's what I like! I will let him do all my work from now."
HANNAH THOMPSON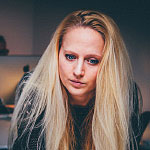 "Adeel was very patient with me as I figured out what I needed from him. He turned everything around in a very short time."
EMILY ROSE
If you have any questions or inquiries, please feel free to contact us. You can fill out the form below with your name and email address and one of our friendly team members will be in touch with you as soon as possible.
You can also email us at: adeel@grafixvault.com or call us directly at +923334639353. Thank you for your time and interest in our services. We look forward to hearing from you soon!